This article provides the standard installation process for Lumerical's products on supported Windows systems.
Notes:
Administrator access is required.
Floating licenses must have the FlexNet license manager installed on one (1) of the computer in the local network.
Lumerical product installation
Download the

installation package

. (

registration required

).

Lumerical product installation
Open windows explorer and go to where you saved the downloaded zip file.
Right click on the zip file and 'Extract All'.
Open the extracted folder and run 'Lumerical_Installer.exe'.
Click Install when prompted, to install the required MPI components.
The prompt appears if the components are not found on your machine.
Follow the instructions on the installation wizard and complete the installation.

Notes: Ansys SSO login exemption allows Lumerical to login into your Ansys account on "localhost:8096". Enabling the MPI firewall exemptions adds the rule to your firewall and allow running simulations using the bundled MPIs on localhost.

Connect to your License server. Alternately, you may request a free 30-day evaluation license.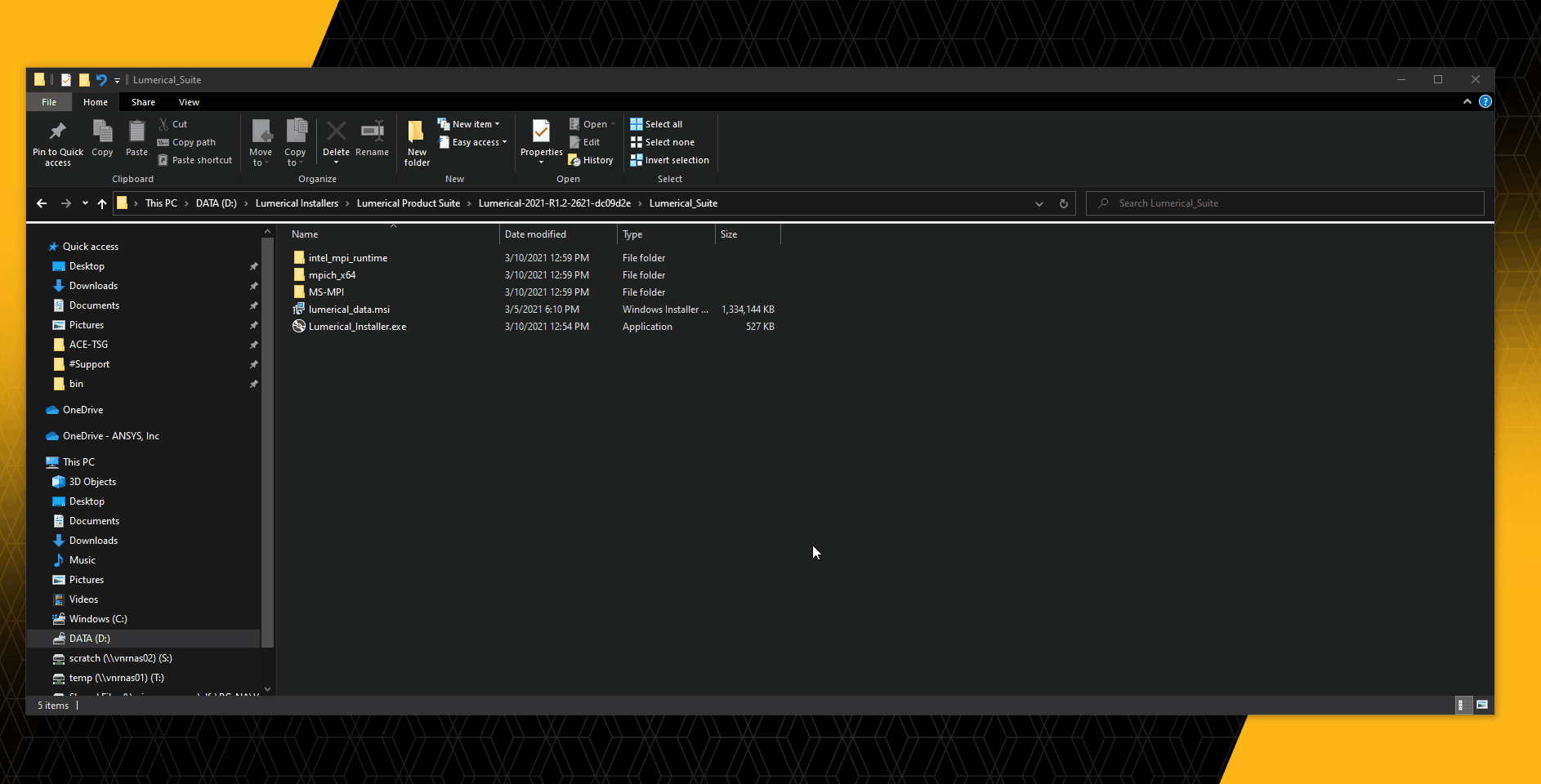 Uninstall or remove Lumerical
Uninstall from the Settings page
Select Start, then select Settings -> Apps -> Apps & features.
Select the app you want to remove, and then select Uninstall.
Uninstall from the Control Panel
Open Control Panel
Select Programs -> Programs and Features.
Select the program you want to remove and 'Uninstall'.
Follow the directions to remove the application from your machine.
Silent install
Silent install is done using the "lumerical_data.msi" installation file.
Open a Windows command prompt as administrator.
Change directory to the location of the extracted Lumerical installation files.
Run "msiexec" similar to below,
msiexec /i lumerical_data.msi /norestart /qb
Notes: The above will still show a basic UI with the progress bar. This will not add the firewall exceptions or install the MPI components required to run Lumerical in parallel on the local host or remote jobs to another Windows machine. You can only run job on the localhost using Local Computer as your job launching preset. Other options for the msiexec (/qn /quiet /passive) do not work. For a full list of option,
msiexec /h
See also