The guideline shown on this page is to configure the Ansys license manager for shared access to the Ansys Lumerical licenses.
Requisites
Admin or root access on the license server
Ansys license manager 2021 R1 or newer
Configuring the license server
If you use a firewall or on a secure network, you will have to add the ports used by the Ansys license manager to your exceptions list. The process shown here is using the default TCP Ports used by the Ansys license manager.
Note: If Ansys LM is running, "Stop" the Ansys license manager and edit the "ansyslmd.lic" license file to add a static port for the VENDOR Daemon. The license file is found in the installation folder: (default install path shown)
Windows:
"C:\Program Files\ANSYS Inc\Shared Files\Licensing\license_files"
Linux:
"/ansys_inc/shared_files/licensing/license_files/"
The 'ansyslmd' vendor daemon port is dynamic (random) when you receive your license file.
To set a static port for the Vendor Daemon, add 'PORT=1056' at the end of the VENDOR line in your license file,

SERVER hostname/IP hostid_information 1055
VENDOR ansyslmd PORT=1056


Once the VENDOR port is added to your license file, add the TCP ports; 1055,1056, and 2325 to your firewall/exception lists to allow access to the license manager. See this guide on adding inbound rules to Windows defender firewall.
If different ports are used for the FlexNet and VENDOR Deamon in the license file, add these ports together with the Licensing Interconnect (2325) port to your firewall/exception list.
If the FlexNet port (1055) is not used, the client computer accessing the license should specify the port in the Lumerical license configuration utility.
Installing the license file
Open the Ansys license management center.
Navigate to "License file options" -> "Add a license file".
Browse to the location of your license file and add the license file.
Install the license file and Restart the license manager when prompted.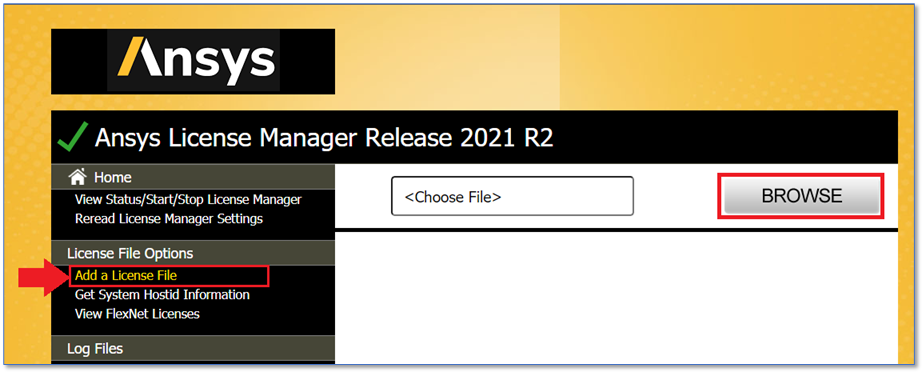 See also