This article shows the process to install the Ansys License Manager on a supported Windows platform.
Requisites
An account with Ansys/Lumerical to download the installation package.
Ansys license manager release 2021 R1 and newer.
Root or Administrator privilege.
Installation on Windows
Download the Ansys license manager installation package from the Lumerical customer downloads page or the Ansys Customer Portal downloads page under the Tools section. (login required)
This is the standard/default installation procedure for the Ansys license manager which includes the Ansys license management center web interface.
Extract the files and run "Setup" to install the Ansys license manager.
Follow the instructions on the installation wizard and complete the installation.
See also the how-to-videos for Windows.
Stopping the Ansys License Manager
This can be done from the Ansys license management center on the license server.
Open the Ansys license management center from the Start Menu.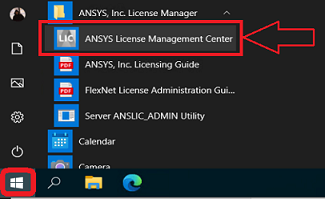 Navigate to the "View Status/Start/Stop License Manager" page
Click on "Stop" to stop the Ansys LM.

Starting the Ansys License Manager

Check license server status and license usage
The Ansys license manager status and license usage can be checked from the Ansys license management center while logged in to the license server.
Open the Ansys license management center and navigate to the "Diagnostics" section on the left column and select "Display FlexNet License Status". This will show the FlexNet status and lists of license features for check out and the user information that has checked out the license (if any).

Navigate to "Reporting" and select "View Current License Usage". The current license usage on the license manager will be shown. Click on "Show tabular data" for a table format.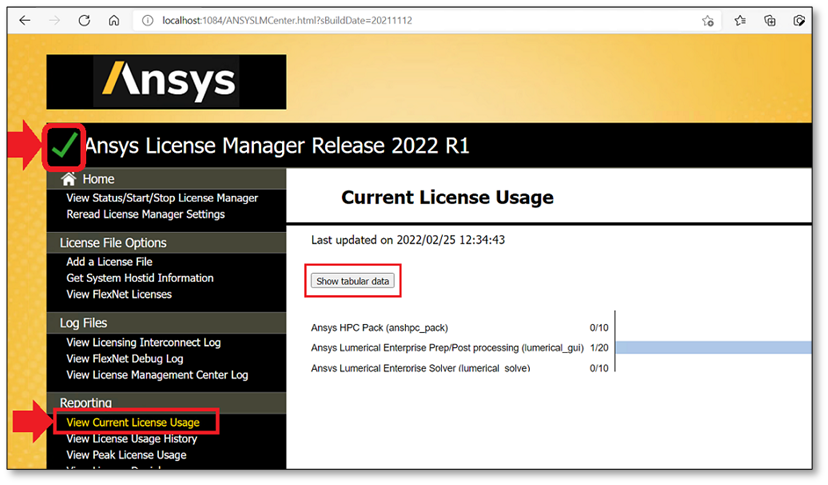 Issues with Ansys license manager
See this Knowledge Base (KB) article on how to obtain the Ansys license manager logs and diagnostic files to troubleshoot issues with the Ansys LM.
See also
Uninstalling the Ansys license manager
License server configuration and license file installation
How to check license status and availability (client side)