Lumerical now supports the "BORROW" licensing feature on the Ansys license manager. The guidelines on this page show how to configure Lumerical using the Ansys client settings to "BORROW" a license increment from the Ansys license manager. Consult with your Ansys Account Manager for this feature on your Enterprise product license.
Requisites
Ansys Lumerical 2022 R2 and newer.
Ansys license manager 2021 and newer with Enterprise product license that has the BORROW feature enabled.
Not supported on Ansys Standard (Business/Academic) licenses.
Borrow licensing feature
The 'lumerical_gui' and 'lumerical_solve' increments can be borrowed for up to a maximum of 720 hours (30 days) on a supported Windows computer.
After which the license will be automatically "returned" to the Ansys license manager.
This is very useful when you are running Lumerical on a Windows laptop or you are remotely connecting to your license server from your home computer.
With license borrowing, you can run Lumerical up to a maximum of 30 days without having to connect to the Ansys license server on your network.
The borrowed license can be returned before the "return" date. Otherwise, it will be automatically returned on the "return" date indicated on the Ansys client settings.
Borrow licensing process
To borrow an enterprise product license feature:
Open the Lumerical launcher -> License configuration.
Set this to "Configure my account to use Ansys Client Settings"
Click on "Ansys Client Settings" to open the utility.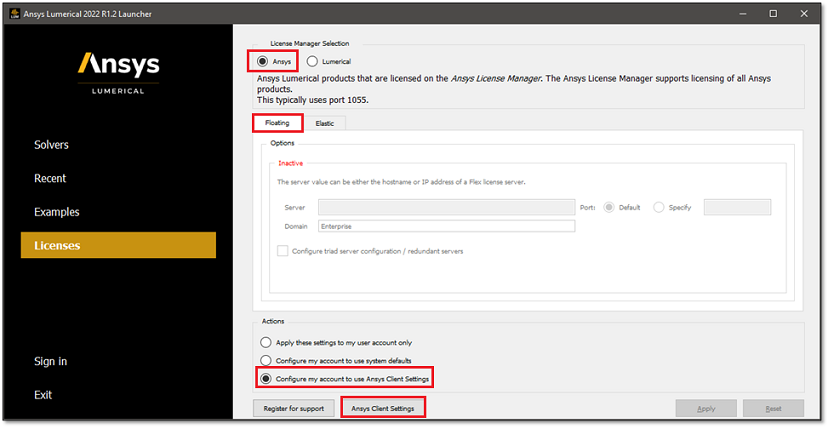 From the "FlexNet Publisher" section of the utility, enter the license server information.
For Triad license server configuration, enter all 3 license server information.
Click "Test" to check your connection to the license server(s).
"Save" to apply your settings.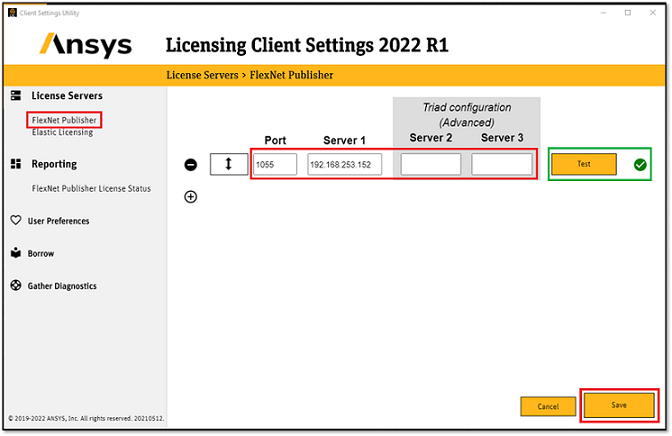 Navigate to the Borrow section.
Click on the "Borrowable increments" drop-down menu to select the license feature to borrow.
Select the "Return Date".
Hit "Borrow" to save your selections.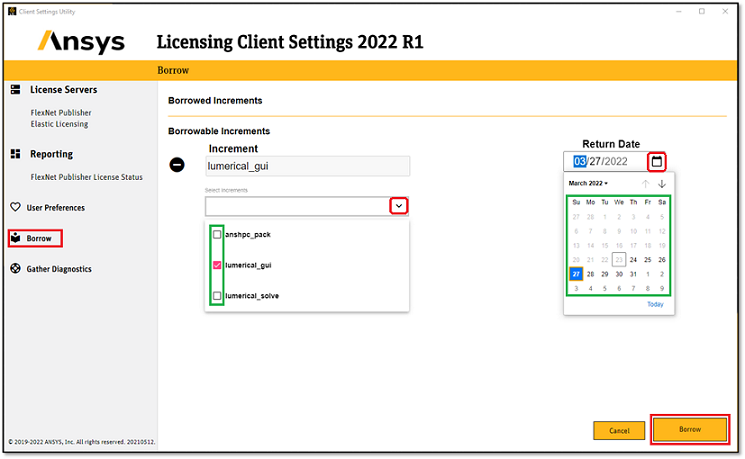 Your borrowed entitlements with the corresponding return date will be shown.
Disconnect from your license server and continue to use Lumerical on your local computer.
Returning borrowed entitlements
Open the Ansys Client Settings utility from the Lumerical launcher -> License configuration.
Navigate to the Borrow section on the left
Click "Return" on the right of the borrowed entitlement to return the entitlement.
Hit "Return All" to return all of the borrowed entitlement.
All borrowed entitlements will be automatically returned and checked back into the license server on the indicated return date.