To foster a design ecosystem for integrated photonics, Ansys Lumerical and Cadence have co-developed design workflows for photonic component designs and circuit designs, leveraging the state-of-the-art design tools of Cadence and Ansys Lumerical.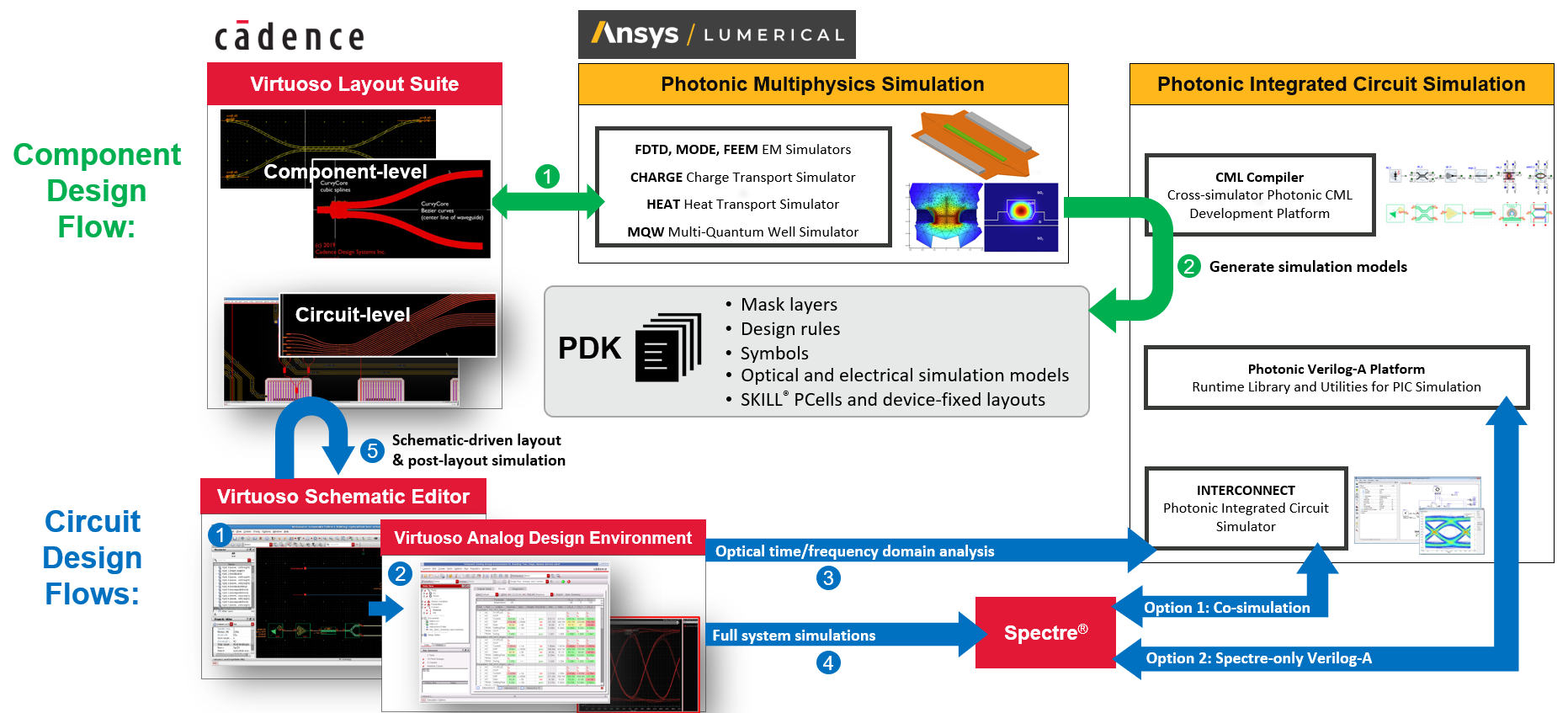 For photonic component designs, we've built a direct integration bridge between Virtuoso layout Suite and Lumerical Multiphysics simulation tools to provide a seamless design environment for component layout and simulation. We also provide Lumerical CML Compiler as a Cross-simulator Photonic compact model development platform, to take component simulation data and generate compact models for photonic PDKs. These models can be used in our circuit design flows described below.
Circuit Design Flows
To facilitate electronic-photonic integrated circuit designs, we've integrated Lumerical's photonic circuit simulation platforms with Cadence Virtuoso. This design environment allows user to design hierarchical integrated circuit schematic using Virtuoso schematic editor and to perform circuit analyses through Virtuoso Analog Design Environment (ADE). From ADE, users can perform photonic circuit simulations through either of our two design flows discussed below. Schematic design can also drive circuit layout, and layout can be back-annotate to schematic for post-layout simulation.
Optical time/frequency analyses on photonic circuits can be run from Virtuoso by using INTERCONNECT as an ADE simulation engine. Users can also perform full system simulations on both their photonic circuits and electronic circuits by leveraging Spectre to simulate the electrical circuit and INTERCONNECT to drive the photonic circuit, simultaneously.
Full system simulations can also be run by leveraging Lumerical's Photonic Verilog-A Platform, which provides modeling physics for photonic circuit components. Here, Spectre is used to run both the electrical and photonic circuit simulations.