INTERCONNECT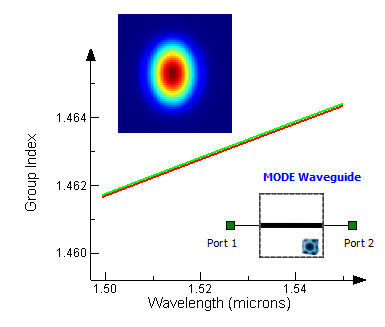 This page describes how to create a MODE Waveguide element, which enables users to import frequency-dependent properties (such as the effective index, loss, group index, dispersion...etc) of a single- or multi-mode waveguide directly from MODE Solutions. This allows for a more detailed description of the waveguide, leading to more accurate simulation results.
MODE Solutions
When carrying out a frequency sweep in MODE Solutions, select all modes of interest (from the mode list) and set the frequency range. Make sure to select "track selected mode", "detailed dispersion calculation" and "store mode profiles while tracking", this information is necessary for the MODE Waveguide in INTERCONNECT.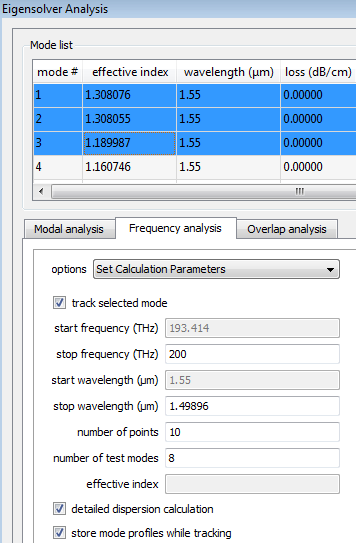 Once the frequency sweep is complete, check the frequency-dependent results for each mode and make sure that the results are correct before exporting the data. The results will be shown on the right-hand side of the window together with the selected modes' mode profiles. User can choose to visualize the following results from the "plot" drop-down menu:
effective index
loss
gain
group index
group velocity
group delay
dispersion
beta
The following two figures plot the effective index and group index variation with wavelength of the first two modes in the list, respectively.


To save the frequency result into a format that can be directly imported into INTERCONNECT, select "Data Export" in the options drop down menu. Click on "Export for INTERCONNECT", and enter the orthogonal identifiers which will be used to track these modes in INTERCONNECT.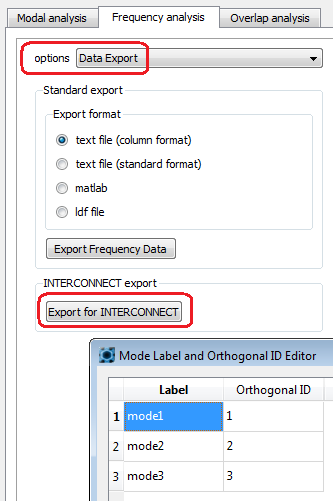 INTERCONNECT
Add a MODE Waveguide from Element Library -> Waveguides, and specify the .ldf file from MODE Solutions as the "ldf filename" property. The element will now function as a waveguide with the properties determined by MODE Solutions. For example, one can look at the field profile using a Mode Profile Analyzer.

See also