Overview
The Lumerical startup scripts are automatically run each time the application starts up and they can be used to configure the global environment. There are 4 startup scripts covering all possible combination of: all-users, user-specific, all-products (shared), and product-specific.
The startup scripts will run in the following order:
global shared startup script
global $(PRODUCT) startup script
local shared start-up script
local $(PRODUCT) start-up script
Users can 'open', 'initialize' and 'modify' the startup scripts by selecting 'Open startup scripts' in the 'File' drop-down menu from with the CAD. This will open all possible startup scripts for each product.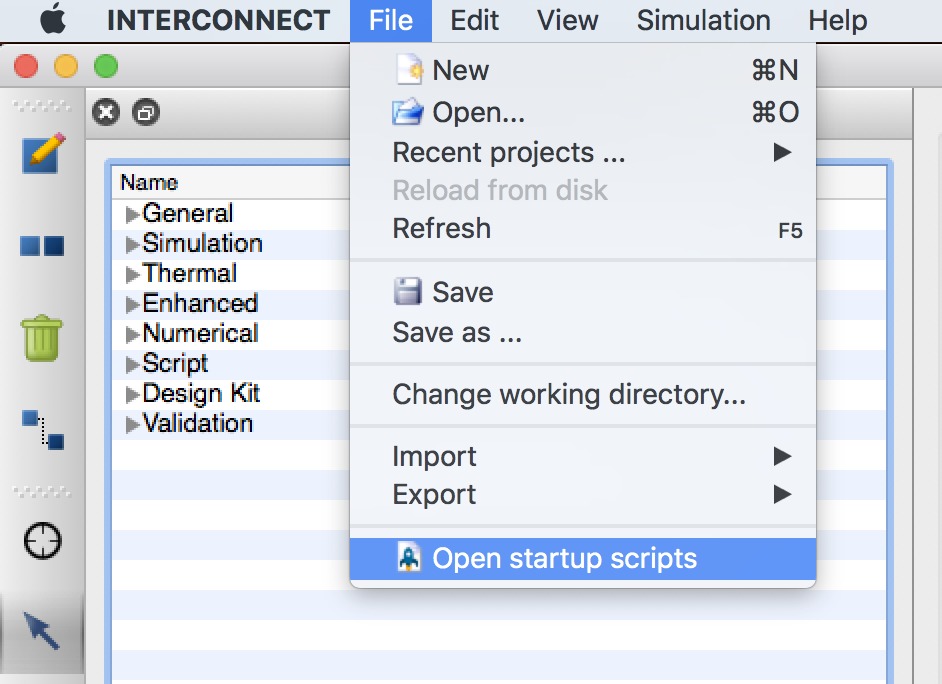 Notes
Local or user script files are automatically created, but global script files, needs to be created manually.
Users can also create and modify the startup script files by going to the startup script file locations (see section below) and create/modify the files.
Empty (0 byte) startup scripts will not run when the application opens
Global scripts
Shared: global_shared_startup_script.lsf
FD IDE: global_fd_ide_startup_script.lsf
MODE FD IDE: global_mfd_ide_startup_script.lsf
FE IDE: global_fe_ide_startup_script.lsf
Schematic IDE: global_sch_ide_startup_script.lsf
Local (user specific) scripts
Shared: local_shared_startup_script.lsf
FD IDE: local_fd_ide_startup_script.lsf
MODE FD IDE: local_mfd_ide_startup_script.lsf
FE IDE: local_fe_ide_startup_script.lsf
Schematic IDE: local_sch_ide_startup_script.lsf
Startup script file location
Once created, the startup scripts will be located in the following places:
Windows
local-user

C:\Users\[USERNAME]\AppData\Roaming\Lumerical\any_startup_script.lsf

system-wide

C:\Program Files\Lumerical\[[verpath]]\Lumerical\any_startup_script.lsf
Linux
local-user

~/.config/Lumerical/any_startup_script.lsf

system-wide

/opt/lumerical/[[verpath]]/Lumerical/any_startup_script.lsf
macOS (deprecated)
local-user

/Users/[USERNAME]/.config/Lumerical/any_startup_script.lsf