FDTD
MODE
List of Object Library Analysis Groups
The object library provides additional Complex Structure and Analysis objects that can be used in your simulations.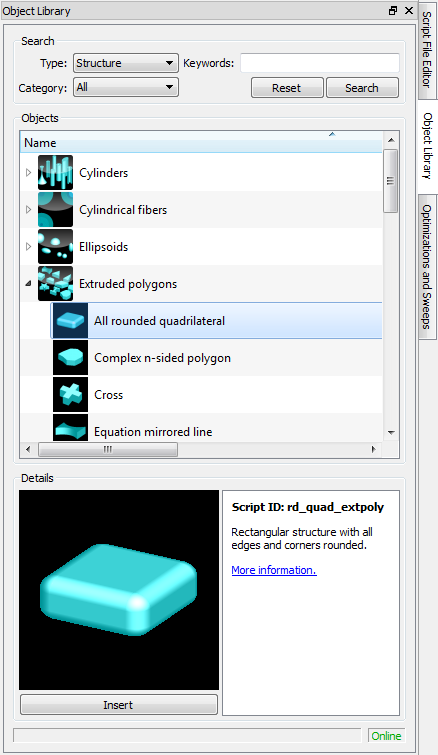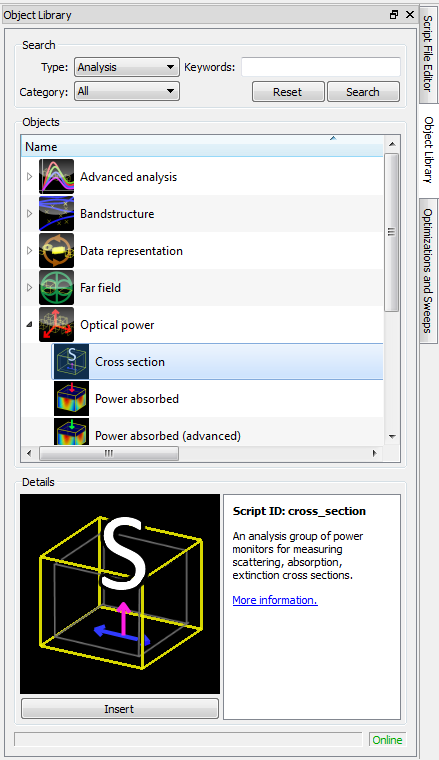 CATEGORY: Choose to only display components of a certain category (e.g. extruded polygon, photonic crystals)
TYPE: Choose to display the type of simulation object (e.g. structures, analysis groups)
KEYWORDS: The object window will only show objects that match your keyword (e.g. hemisphere, waveguide)
RESET: Sets the category to display 'all' and deletes any text in the keywords text box
SEARCH: Activates the search for objects that match the keywords (the same function as pressing enter while in the text box)
INSERT: Pastes the object into the simulation region centered at the current view port settings (same function as double-clicking the object)
Note: Modifying the object library
The object library is not user-modifiable, so users cannot add or delete objects in the object library. If you would like to re-use to your own custom object, one can copy and paste the object between simulation files or products.